Let me tell you a story.... A long time ago, in a faraway land, I started a quilt.
The year was 2000, and I was about to leave Oregon and return to the UK permanently, having spent three years working as a post-doc at the Oregon Institute of Marine Biology. That's right, I was moonlighting as a marine biologist! I'd been quilting for a few years, and thought that as fabric prices in the States were so much more reasonable than the UK, I could buy all the fabrics I needed for a large bed quilt that would remind me of my time on the Oregon coast.
So one weekend, I headed south to Quilter's Corner in Port Orford. It was one of my favourite stores, with a huge selection of pretty florals perfect for colourwash and watercolour style quilts. I was armed with my copy of the Colorwash Irish Chain pattern by Heatherworks, and the idea that I wanted fabrics that would remind me of Oregon. After an hour or so of deliberation, I picked out the perfect range of watery blues and greens, many with a Japanese type vibe.
Fast forward a couple of months, and the finished quilt top was pinned on the wall of my living room in Edinburgh, where I was working on a second post-doc. It had an ephemeral beauty that I thought would be perfect on my bed. But then I stalled. I just couldn't decide how to quilt it, and although I had successfully quilted a number of king sized quilts on my domestic sewing machine, I was really worried that I would ruin it. I came up with quilting plan after quilting plan. I even considered hand quilting it, and made a cushion cover to develop my ideas.
hand quilted rose and trellis in a north country quilting style
As I'd contemplated the quilt top over the years, my mind had often drifted to a haiku by Basho: "Spring rain - under the trees a crystal stream" and I realised that I wanted a natural watery or leafy design for the quilting. Last month, I finally overcame my nerves and quilted it in a freehand large leafy vine pattern, and thankfully I am pretty happy with how it turned out.
And at the weekend, on the first rainless day for weeks, Mr Q and I headed out to the park to take some photos.
The twist in the tale is that while I still love this quilt, the colours I want in my house have changed, and I know that this quilt won't be used very much by us. So, I've decided to pass it on to my PhD student who successfully defended her thesis last month. I hope she will enjoy it.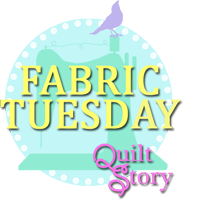 Linking up to Fabric Tuesday at Quilt Story